WALL DRAWINGS
Selected site specific wall drawings 2000–2002
Room 35, Kudos Gallery, Ivan Dougherty Gallery, Artspace, Sydney, and
UNSW SOLARCH Solar Research Centre, Little Bay, NSW

Site specific installations of 14 wall drawings.

Between 2000 and 2002 I produced various large-scale wall drawings for the solo exhibitions Infinite Nostalgia and The Poetics of Descent, and for group exhibitions at Kudos Gallery, the Ivan Dougherty Gallery (College of Fine Arts, UNSW), and UNSW SOLARCH Solar Research Centre, Little Bay. The drawings were site specific and conceptual. They were also ephemeral, since the closure of each show dictated their removal; cleaned from the walls and painted over. As such, the artworks ceased to exist beyond their documentation. Like much conceptual art, these drawings could not be seen — despite their creative value, beauty, technique, etc — as marketable commodities, or as decorative objects 'for' walls: the artworks 'were' the walls; an aesthetic and expressive liaison between subject, media, and gallery; with sensitivity to architectural placement per se, and the relative positioning of drawings if more than one. Beyond the linear nature of the drawings, a few individual pieces (Infinite Nostalgia of a Heartbeat, Floating Webs, The Ballad Of Vacant Bird-Eyes) incorporated sculptural assemblage sourced from locomotives, using materials such as steel, aluminium, and carbon. These functioned as arms, beaks, and styluses seemingly transmitting, tracing, or engraving the lines and shapes of the drawings. In these works, there was a prevailing sense that the artist's hand was not 'at work', rather, that the machine's hand was drawing and emitting both form and meaning.

The drawings were pre-planned; scaled onto large cartoons by hand, or traced off small studies and enlarged in Illustrator and then printed. The cartoons were taped onto the gallery walls, allowing them to be sited by degree and by measure. In the Renaissance tradition, the cartoons were pricked by pins to make sense of where lines began, and finished, though unlike Spolvero, no dusting powder was used; the pin marks were the only guide, and where necessary, continual visual referral back to the cartoons was made. (During the Renaissance, Spolvero (or pouncing) technique involved pricking the contours of a drawing with a pin and dusting powdered charcoal or lead white through the pinholes onto a light or dark recipient surface. It was a very labour intensive technique. See Carmen C. Bambach, Drawing and Painting in the Italian Renaissance Workshop: Theory and Practice, 1300-1600.) In some instances, pins were left lightly sticking into walls to be a guide while drawing. In other drawings, holes were made and the cartoon removed in its entirety before work began. It is a truism to say that the process could be labour intensive: in the case of Infinite Network of Hidden Stars, approximately 35,000 pin pricks were made, and the drawing took 2 days to complete with 5 assistants.

In reproducing these wall drawings, the problematic issues are firstly, one of 'honest' documentation, and secondly, the viewer's experience of the work in situ, which cannot be conveyed easily post-exhibition. In the gallery, the viewer continually moves and refocuses, not just laterally but in and out, that is, towards the work and away from it, making sense of the detail as well as the overall quality and visual structure of a particular work, or that work in relation to others. From a distance, the human eye can make sense of fine line work, but the camera cannot do service to its reproduction beyond close to middle range, from which you have a slice of the picture depending on the scale of the work. It is hard to stress the difficulty one has in photographically recording a 0.4 mm black ink line — on a drawing that might span 8 metres length — at a distance that allows for the work to be seen in its entirety, despite the fact that the human eye can process it. Even so, Lenny Ann Low ('Exhibitions: Mars is all right tonight', Sydney Morning Herald, Sept 15-16, 2001) still wrote of my "three dimensional pen drawings of angular forms and paper aeroplanes [being] hardly visible on the white walls."

To illuminate my point, Falling Walls effectively comprised 6 lines and the gallery wall's ground line, and the 2 parallelograms spanned many metres across a corner of the gallery. When a photograph was taken of the whole work, the lines were largely invisible, when 'details' were taken, the record was but a single black line on a white wall. The former risked capturing no information at all, whilst the latter made no sense of the true spatial, formal, expressive, and instrumental values of the artwork. They were both misrepresentations of what the viewer saw and experienced. Similarly, the wave motif that comprised the basic pattern of Infinite Nostalgia of the Waves could be photographed singularly, but not in full, repeated over a large wall. Ingrid Z W Van Dyk (To Be or Not To Be: The Changes and Challenges Facing Tomorrow's Conservator of Ephemeral Art, Master of Art Administration thesis, COFA UNSW, 2000, Sydney, p.14) wrote that even though "the drawings employ traditional materials and methods, one can only view them in situ. Any attempt to preserve them on film or video results in the problem expressed in Antonioni's movie Blow Up. Close up or distant focus makes the drawings unintelligible…. For Schranzer's drawings, one had to be there."

This brings me to a point that needs to be made: that THE REPRODUCTIONS YOU SEE HERE ARE ALTERED: that is, most of the images have been digitally enhanced or 'pushed' using Macromedia Flash and Photoshop to better convey the true essence and visual impact of a work or series of works as they sat within gallery spaces. To do less than this would have had you, the viewer, literally staring at a blank wall.

Concerning the temporal nature of the artworks, although Van Dyk sees ephemeral art as being largely the result of "heterogeneous, insubstantial and often unstable" materials being used in an artwork, underpinned by various philosophical and conceptual intentions and meanings (performative, temporal, transmutational), she described my drawings as "deliberate ephemera." I take this to mean that despite their archival quality, the fact they could well have had longevity — a permanent shelf life — I allowed their existence to be governed by the time frame of an exhibition, and the need for erasure at a given date. The built in "time-bomb" had begun "ticking from the moment the artwork was conceived" (Van Dyk, p.5). The time bomb was not materially based, but pragmatically determined. The gallery was artwork, vehicle, mediator, and constraint, and painting over the images was an inevitable and reconciled outcome. Though disappointing in some ways (especially if friends or critics failed to see a show before it closed), there was also a certain poetry operating: the drawing of Processional Wall was subject to a 'destruction' any architectural wall might experience, materially and in memory over time; the drawings of Infinite Nostalgia were, with pathos and nostalgia, scrubbed off the walls never to be seen again.

Finally, I re-emphasise that the viewer's general experience of the works in situ — the physical and emotional responses that may have been experienced in the presence of the drawings — cannot be conveyed by these reproductions. Infinite Nostalgia, for example, was — as I, and others, felt it — a meditative and soulful exhibition. Yet however meditative, the exhibition was also a physiological experience: Room 35 was a subtly pulsating visual environment, for under the gallery's daylight-based fluorescents the light bounced off the white walls to produce a shadowless, ambient environment. Since light was not absorbed by solid artworks, by intermediary supports punctuating the space, the effect was mildly blinding, vibratory, if not auric. Fine black lines would manifest and then dissolve as the eye alighted and then moved on. The optical nature of Infinite Network of Hidden Stars added to the effect, as the eye and brain dealt with the afterimage, with lines and forms being salient or recessive, aspects flat or dimensional. If not actual, there was the metaphoric suggestion of movement in works like Infinite Nostalgia of a Heartbeat, with its flat-liner trailing off into 'foreverness'. There was materialization and dematerialization, a flux in the physical and psychic digestion of the walls and their drawings. Standing in the white box of the gallery was truly disorientating: it was a 'whole-body' experience; you were within the artwork — sensing infinite motion, and yet, stillness.


—————————————————————————————————————————
INFINITE NOSTALGIA
Selected artworks from the exhibition 09 August — 02 September 2000
Room 35 (at Gitte Weise Gallery), Sydney

An exhibition of 5 wall drawings and 3 drawings.
Assisted by Isolde Lennon, Clinton Gay, Ken Patrick, Cherine Fahd, Evan Brooks.

Tender eternities take root in me.
Jean Arp

This exhibition continues [Schranzer's] tradition of creating linear and toneless forms… reflect[ing] his use of impersonal graphic and technical conventions that belie the personal. Even Schranzer's drawing 'Infinite Network of Hidden Stars' — in deference to a tenet of optical theory and illusion — transcends its scientific value to become personal and enigmatic, a 'solitudine dei segni' (solitude of signs)… restrained, abstract, and melancholic. … Heraclitus set forth in words: "the god of the Oracle does not speak and does not hide, but indicates through signs." … In all but three drawings, Schranzer's use of the white page is supplanted by drawing directly onto the gallery's walls. This creates an equation whereby his motifs are freed, eluding the formality and confining influence of the frame, isolating yet synchronously connecting each drawing within the gallery. Paradoxically, they are located within a fixed architectural space that is simultaneously—by virtue of the nature of the work and the implied continuity of the gallery's 'planes'—infinite and expanding. These units, taking up the whole or part of a wall, conceptualize the poetic notion of 'Infinite Nostalgia'.

The exhibition is an ode to the infinite, the nostalgic, and the melancholic. The drawings displace the barriers of time and space while locating their 'eternity' in the present/presence of the gallery. Room 35 is a universe of metaphysical contemplation and quietude—a room of 'tender eternities' for stars, waves, song, and private lament.
Excerpted from the Press Release for the exhibition, August 2000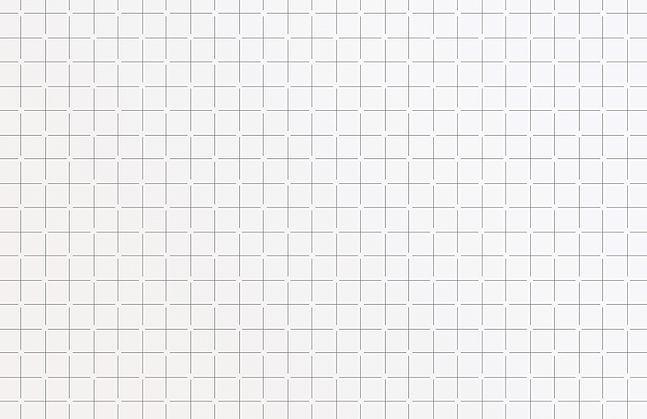 KURT SCHRANZER

Infinite Network of Hidden Stars (detail)
August 2000, site specific wall drawing, pigment ink
Provenance: Ephemeral/Destroyed
Exhibited: 2000 Infinite Nostalgia, Room 35, Sydney.
Photography: Vanila Netto. Digital Enhancement: Kurt Schranzer and John Burge.

© Kurt Schranzer 2007



—————————————————————————————————————————
YOUNG MAN ON STAGE
Artwork from the exhibition Prax-is, January 2001
Kudos Gallery, Sydney

A site specific wall drawing.
Assisted by Isolde Lennon.

No one looked away from Pyrrhus. Some people just stared at him, open-mouthed. Others glanced intermittently, or sidewise, as if not deigning to seem too interested. A few had come just to see him. … Pyrrus got hard, helplessly, with men looking at him. … He was there to feel their eyes on him. They obliged; the men in the room were transfixed as he slipped off his shorts.
Mark Merlis, from the novel Pyrrhus

This site-specific wall drawing maintains an interest in themes of the virile, masculine, performing youth (earlier drawings include Young Man on Stage, Canadian Stripper, Male Burlesque Performer in Slow Motion); referencing the male strip shows of Toronto, Montreal, and London, where "valiant men sporting vigorous erections is de rigueur!"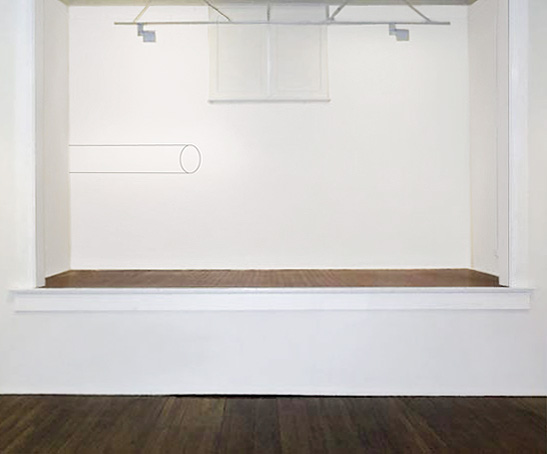 KURT SCHRANZER

Young Man on Stage
January 2001, site specific wall drawing, pigment ink
Provenance: Ephemeral/Destroyed
Exhibited: 2001 Prax-is, Kudos Gallery, Sydney.
Photography: Kurt Schranzer. Digital Enhancement: Kurt Schranzer and John Burge.

© Kurt Schranzer 2007
—————————————————————————————————————————
PROCESSIONAL WALL
Artwork from the exhibition Histories in the Making, February–March 2001
Ivan Dougherty Gallery, Sydney

A site specific wall drawing.
Assisted by Isolde Lennon.

We are accustomed to thinking of history as having some main events and a great many sideshows. … the great heroes are at the heart of the tapestry, the place where every thread comes together in one impossibly intricate knot and the gods themselves condescend to join in the weaving. … you and I are at the periphery somewhere. Of course, there is no periphery.
Mark Merlis, from the novel Pyrrhus

History — its truths, its myths — its embodiment in books, art, and architecture — has a grand and public face, yet there is also a personal and largely unwritten one. As the narrator in 'Phyrrus' suggests, there is no real periphery as we day-to-day, over a lifetime, construct our own histories within a larger cultural nexus and time-line, connected to the 'who' and to the 'all' that there is. It is somewhat in this context that 'Processional Wall' exists: an acknowledgement of histories, past and present, small and large, private and civic, and the personal and cultural references (expressions) that are used to make sense of the 'who I am' or the 'who we are': politically, spiritually, socially, sexually. In its conceptualising, and in its positioning, 'Processional Wall' was framed by images of the Lion Gate of Mycenae — with its monolithic stones, corbelled arch and slab, fronted by sculpted lions and column — and of the frieze-like, low relief designs of much Mesopotamian art. Of the latter, one reflects on the Persian relief sculpture found on the terrace and stairways to the Audience Hall in the Palace of Darius at Persepolis, and logically — as the drawing is located on the brick walls of the gallery — one looks to Babylonia, for 'Processional Wall' primarily evokes the glazed tiles and brick patterns of Nebuchadnezzar's street wall, leading from the inner city through the Ishtar gate to the Bit Akitu. Of course, in place of those stately lions and mythic beasts — the dragon of Marduk and the bull of Adad — there is a horizontal column-cum-cylinder-cum-phallus. Simply, one mythic character or 'archetype' — with personal as well as psychoanalytic, anthropologic, heraldic, magical and historical meaning — replaces the others. Beyond these allusions and archaeological references, the combination of 'phallus' and ink on brickwork also aligns the artwork with graffiti, especially that 'adorning' toilet blocks. Whether illicit, artistic, or well humoured in impulse — created in mock solicitation or advertising real social or sexual need — its role, meaning, and value can surely be examined within various sub-cultural and sub-historical discourses. Graffiti and, though not mutually inclusive, public toilets have served useful social and sexual functions for outsiders, subverting the public architectural spaces of the dominant culture and its institutions.
Quoted from an unpublished Artists Statement, January 2001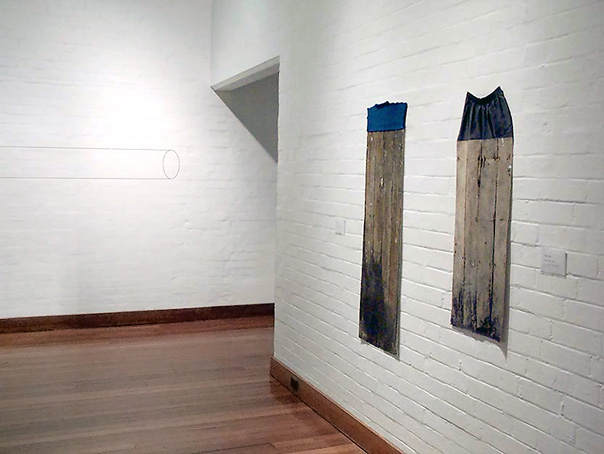 KURT SCHRANZER

Processional Wall (detail). To the right, works by Nicole Ellis.
February 2001, site specific wall drawing, pigment ink
Provenance: Ephemeral/Destroyed
Exhibited: 2001 Histories in the Making, Ivan Dougherty Gallery, Sydney.
Photography: Kurt Schranzer. Digital Enhancement: Kurt Schranzer and John Burge.

© Kurt Schranzer 2007
—————————————————————————————————————————
THE POETICS OF DESCENT
Artworks from the exhibition 06 — 29 September 2001
Artspace, Sydney

An exhibition of 4 wall drawings.
Assisted by Isolde Lennon, Evan Brooks.

During the month of September 2001, Artspace presented 3 imaginative exhibitions that occupied and engaged with the gallery spaces in various visual and metaphoric ways: Simon Cavanough's installation 'Today I looked down from on top of a hill and saw that everything that was fucked was also good', with its aesthetically controlled yet ad hoc hoses and structures weaving through space; Han Lims' monumental, space-filling 'Untitled (2001)'; and, in juxtaposition, the materially empty gallery space of Kurt Schranzer's 'The Poetics of Descent'.

Cavanough's wall and floor installation featured a whirring machine and connected to it, via plastic hoses, miniature cardboard factories littering the floor, in turn connected to pink balloons. The machine gave kinetic life to the arrangement via these balloons: the effect was one of slow breathing, of the rhythmic inhaling and exhaling of tiny lungs, as they inflated and deflated.

Han Lim's fusion of visual art and interior architectural practices created an architectronic structure trying to defy gravity or, at least, our expectations of it. 'Untitled (2001)', like other works in his oeuvre, investigated "instability of form, explorations of space, physical laws and engineering," and though a "very large scale construction occupying the length and height of Artspace's largest gallery, the structural supports for the work [were] paradoxically, almost impossibly, fragile." The work was constructed of bricks, suspended off the ground and held in this 'levitating' place by fine steel wires: the illusion was that of a massive, masonry form, floating expectantly, surreally; time having been frozen. In all its physicality, it said much about the fragility and precariousness of the world that we construct.

Schranzer's 'The Poetics of Descent' situated four stark wall drawings within gallery 3. The project, and individual drawings, expressed "movement downward, back, across, yet movement that [was] caught, fixed in time." This resulted from establishing a discourse between the finite, defined space of the gallery, and the illusionist space of the walls, used as they were as the artist's canvas. These walls (windows or picture planes) allowed for the establishment of a boundless, immeasurable visual field, emphasised by the minimal linear drawings and their ambiguous figure/ground relationships and positions; the lack of ground planes, fore, middle, or backgrounds; the manipulation or absence of perspectives, form and density. Schranzer created "dichotomies between material space and spiritual space, a space of solids and transparencies, an expression of forms and forces that [were] physical, atomic, and gravitational, yet celestial, weightless and inactive." Like Lim's brick wall, there was the expectation and implication of movement and transition, yet a sense of unearthly poise, of being in limbo.

This contemplative, even meditative limbo was an interesting feature of the Artspace exhibitions, opening as they did three days before the events of September 11, 2001. Observing Han Lim's untitled floating wall, and reflecting on Schranzer's 'Falling Planes', 'Falling Walls,' 'Falling Column', and 'Floating Webs', there was a sense of freezing and framing the very players of that event: the aeronautical, and the architectural. Visionary and prophetic, I would not go so far as to say, but in the context of an unfolding 9/11 and its aftermath, the gallery offered a hymnal respite of sorts, a calm space (for those not stunned, who were able to wander out) from which to make sense of the fragments: those exploding planes, collapsing buildings, falling floors, walls, columns, windows, and, not to be forgotten, humanity. Watching the coverage of the towers collapse (during the night I was woken by a friend's phone call from Amsterdam: "Have you seen what's happening in NY? For Christ's sake turn on the TV;" the news was breaking, the events filmed from a distance across the river) there was, I swear, all of these things: a moment of questioning and realization, an awkward imbalance, yet poise, suspension, levitation, a 'quite' breath, before the ground was pulled. Though Cavanough tied the rhythms of his balloons and small buildings to sexual "factories of love, their purpose simple," he (from my perspective) more significantly expressed that the machine told "the story of man's simplest desires for home, love, and security and how these desires relate to a world that can seem so less than perfect as to lead to sadness…." Lenny Ann Low made the melancholic assessment that those 27 ankle high houses, with their shallow breathing balloons "swelling and deflating like sad and weary hearts, is like visiting a hospital intensive-care unit." Three artists. One requiem.
Vincent Renner, Sydney, November 2001, unpublished. For quotes, see Artspace, Issue number 103 September 2001, and Lenny Ann Low, 'Exhibitions: Mars is all right tonight', Sydney Morning Herald, Metro, Sept 15-16, 2001.



Above:
Han Lim
Untitled (2001), 2001
Installation views, Artspace, Sydney, September 2001
Photography: Kurt Schranzer

Left:
Simon Cavanough
Today I looked down from on top of a hill and saw that everything that was fucked was also good, 2001
Installation view, Artspace, Sydney, September 2001
Photography: Kurt Schranzer

KURT SCHRANZER

Falling Walls, Falling Planes, and Falling Column in situ
September 2001, site specific wall drawings, pigment ink
Provenance: Ephemeral/Destroyed
Exhibited: 2001 The Poetics of Descent, Artspace, Sydney.
Photography: Kurt Schranzer. Digital Enhancement: Kurt Schranzer and John Burge.

© Kurt Schranzer 2007
—————————————————————————————————————————
BIRD WATCHER, AIRSTRIP
Artworks from the exhibition Praxis 2002, January 2002
Kudos Gallery, Sydney

A site specific installation of 2 wall drawings.
Assisted by Isolde Lennon.

Voyeur, binoculars, spotting, watching, birds, planes, strip, display…


KURT SCHRANZER

Bird Watcher
January 2002, site specific wall drawing, pigment ink
Provenance: Ephemeral/Destroyed
Exhibited: 2002 Praxis 2002, Kudos Gallery, Sydney.
Photography: Kurt Schranzer. Digital Enhancement: Kurt Schranzer and John Burge.

© Kurt Schranzer 2007
—————————————————————————————————————————
THE BALLAD OF VACANT BIRD-EYES
Artwork from the exhibition Appliance, April 2002
UNSW SOLARCH Solar Research Centre, Little Bay, NSW

A site specific wall drawing.
Assisted by Isolde Lennon, Evan Brooks.

Group exhibition curated by Alan Giddy and Sophia Kouyoumdjian. Artists included Ian Howard, Luiza Milewicz, Atanas Djonov, Patricia Bursell, Allan Giddy, Martin Sims, Vanila Netto, Simon Cooper, Barney Chambers, Francois Limondin, Che Ritz, Liz Ashburn, and Jamil Yamani.

Of Paul Klee's 'Twittering Machine', H.W. Janson wrote: "… he has created a ghostly mechanism that imitates the sound of birds, simultaneously mocking our faith in the machine age and our sentimental appreciation of bird-song." This is, in one manner, an apt reading of 'The Ballad of Vacant Bird-Eyes', though 'mock' might less deridingly be supplanted by 'questioning'. Indeed, there is [the pretence of movement] that queries the function and operation of these avian-auto components. …

Posited is the score for bird-song, surely, for there are two notes masquerading as eyes, yet the sound of this melody by-for-of a bird with a vacant stare is audible where? Hear, perhaps, the twitter in this dimension, symphonic or solo, sombre or jovial — concert-watchers teetering on applause — or cup the ear to silence, for the sound is elsewhere, another strata. Perhaps it is heard only by the little souls of common grass-finches? Consider too, the energy, ignition, the mechanisms that precipitate this lyric action for, if not physically fuelled, then from which esoteric source, running on the smell of a cosmic mystery?
Quoted from a statement by the artist, Appliance, exhibition catalogue, 2002, edited Helen Sturgess, College of Fine Arts, Sydney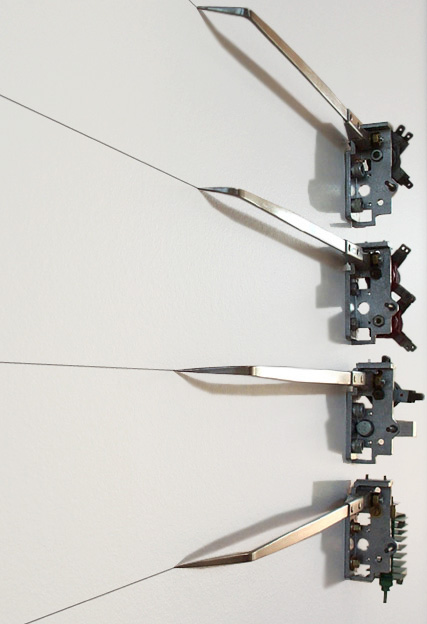 KURT SCHRANZER

The Ballad of Vacant Bird-Eyes
April 2002, site specific wall drawing
pigment ink, steel, aluminium, carbon, enamel, brass assemblages
Provenance: Ephemeral, assemblage components Collection of the Artist
Exhibited: 2002 Appliance, UNSW SOLARCH Solar Research Centre, Little Bay, NSW.
Photography: Kurt Schranzer. Digital Enhancement: Kurt Schranzer and John Burge.

© Kurt Schranzer 2007