THE GREAT LIBRARY
Selected artworks from the exhibition 23 October — 16 November 2002
Room 35, Sydney

An exhibition of 32 artworks: panels and book-objects.

… The exhibition forms part of a continuum in its exploration of drawing … and recalls earlier subject matter … yet it also reveals Schranzer's changing repertoires and exploration of media and formats — a search which, even when 3-dimensionally figured, is still incumbent on engineering-drawing modi and aesthetics. ... 'The Great Library' took its stimulus from three disparate projects: an ink and gesso artwork produced for a group exhibition at The Sir Herman Black Gallery in 1999, a collaborative book with artist Joe Frost for the 3rd Artists' Books and Multiples Fair (Brisbane) in 1998, and a 3-dimensional book-object produced for exhibition in Cologne (a show which unfortunately never eventuated). As such, the media, formats, and pictorial foundations for this exhibition were being laid as far back as 1998….

'The Great Library' is an exhibition of 'books' and 'pages from books'. As sculptural 'book-objects' they are without traditional pages, yet have 'something' of the structure of a book. That is, they have hinges and a mass that constitutes the binding and leaf, where the 'structure' is the defining narrative/dimension. As pages, they take the form of hard-panelled artworks that blur the line between painting and drawing. In both instances, the narratives are visual rather than literary; that is, there is a poetry of form supplanting poetry of text. … Both formats rely on minimal forms, motifs, schemas which are — for the artist, and one trusts observable by viewers across varied cultural, spiritual, language paradigms — intended to convey an essential abstract truth, message, or archetype. … 'The Great Library' concept is premised on historical/mythical libraries (as the Great Library of Alexandria) — wondrous repositories of knowledge — though the artist might add further inner-, inter-dimensional, and metaphysical definitions. The books and their pages act as ancient artifacts, stelae, memorials, as charms, yet can be read as 'contemporary' illuminations… pictograms which, if sent into space, could hold sentiments and frequencies to be understood by all.
Excerpted and adapted from the Press Release for the exhibition, October 2002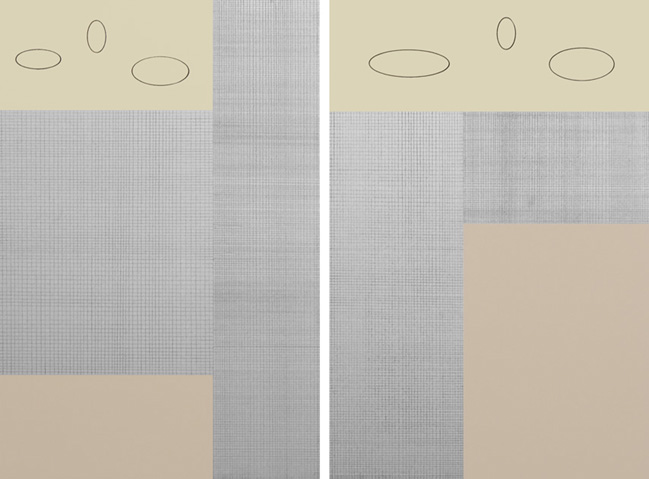 KURT SCHRANZER

Pages from 'The Book of Veils'
1999–2002, ink, pencil, acrylic, gesso on 2 panels, each panel 30 x 20 cm
Signed and inscribed reverse with title, date, catalogue no. MCMLXXIII
Provenance: Collection the Artist
Exhibited: 2002 The Great Library, Room 35, Sydney. 2003 Praxis, Kudos Gallery, Sydney. 2003 Dobell Prize for Drawing, Art Gallery of New South Wales, Sydney. 2006 Summer Show 2006, Esa Jäske Gallery, Sydney. 2008 Phantastische Stilleben and other drawings, Flinders Street Gallery, Sydney. 2009 Making Our Times, University Gallery, The University of Newcastle, NSW. 2010 No Right Turn — Drawing from Western Sydney, Penrith Regional Gallery & The Lewers Bequest, Emu Plains, NSW.



KURT SCHRANZER

The Book of Oceans
2002, acrylic, nickel piano-hinge, wood, book object 2.5 x 40.5 x 12 cm
mounted under glass, 2 pack acrylic/wood box frame 32.7 x 65.5 x 18 cm
Signed and inscribed reverse with title, date, catalogue no. MCMLXXXVI
Provenance: James Hardie Library of Australian Fine Arts, State Library of Queensland
RBHMON SCH (Heritage Collections, State Library of Queensland)
http://www.artistsbooks.slq.qld.gov.au
Exhibited: 2002 The Great Library, Room 35, Sydney. 2003 Praxis, Kudos Gallery, Sydney.

© Kurt Schranzer 2007
NOTE: Due to the low resolution of computer screens, the lines of drawings will present as pixelated.
A 'jagged' quality will be particularly evident on some diagonals and curves.